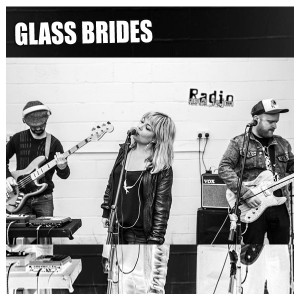 2000HRS (UK) Glass Brides are an electrodelic/nu trip hop trio from Southend…
The band, made up of multi-instrumentalists Luke Mersey and Martin King and vocalist/lyricist Kelly Buckley, got together in February 2013. They wanted to fuse their love of trip hop, psyche and electro pop and immediately started writing and recording material, polishing it all off at the Broom Cupboard Studio in Rayleigh in September and October, with producer Rees Broomfield.
They celebrated the release with a packed launch party last Thursday at the Old Hat in Southend. Their second gig is supporting Sigue Sigue Sputnik Electric, at the Railway Hotel, which is where this special Live Audio & Video broadcast is coming from… tune in from 8pm (UK) on the night on either the regular 64Kbps radio stream or the new tv stream to be found here: radio.novalujon.com/watch-live/
Glass Brides have just released their first six track EP, Nature of the Beats, and it's available on iTunes, Amazon, CD Baby – all those places – as well as Fives Record Store in Leigh Broadway.

FACEBOOK EVENT PAGE
GLASS BRIDES ON FACEBOOK
Cover photography Danny Wood.
REWIND NOTE: Due to mic limitations on the night it does't sound as good as it should but is still worth a listen!