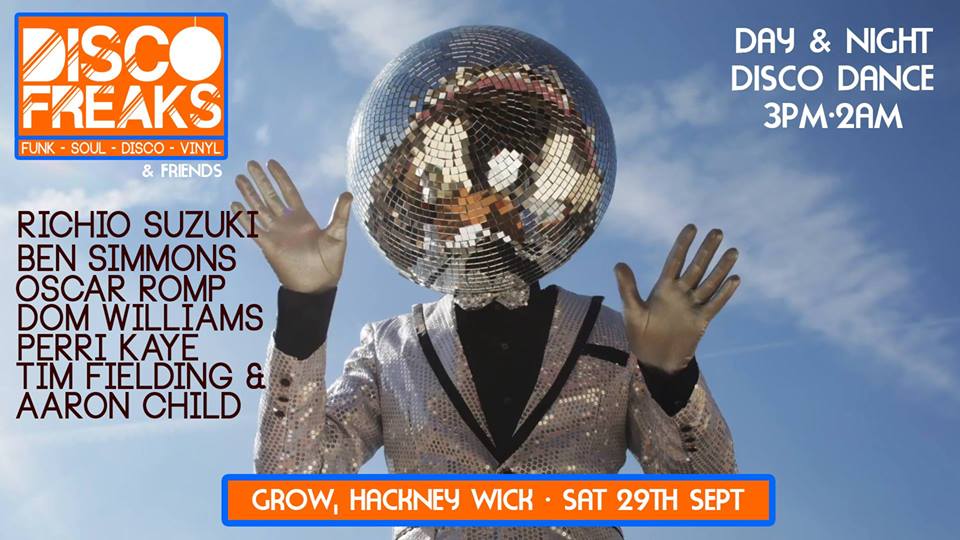 29.09.18 Disco Freaks & Friends 1500-2100HRS (UK) this Saturday is a partial session coming Live from Grow, Hackney Wick with the Disco Freaks & Friends spinning vinyl disco, funk & soul sounds! The boys are hosting a 11-hour party starting on the canalside terrace and bringing it inside once the sun sets – a perfect way to spend Saturday. #musicislove x
"London's funkiest duo – Disco Freaks – return to Grow, Hackney at the end of their busiest Summer yet!
Jumping behind the decks at various points through the day will be:
Richio Suzuki & Oscar Romp (Hawaiian Bop/ The SLST / Mellow Mellow Right On)
Perri Kaye (The South London Soul Train)
Ben Simmons (Mr Ben DJ Agency)
Tim Fielding & Aaron Child (The House Clearance House Party)
Dom Williams (Soho Radio/Acid Jazz)
We'll be starting things off outside at 3pm & move inside once the sunsets around 9/10. Weather's looking bright and dry and it's free up until 10pm. Hope to see some happy shiny familiar faces!
Head on down for good times on our garden terrace on the River Lea complimented with summertime soul & celebrate the weekend in with devilishly delicious disco until the early hours.
Come down and let your feet have some fun!
Free entry before 10pm – £5 after.
From the indoor and outside bar, Grow has a range of organic wines, cider, craft beers and cocktails and soft drinks.
This spring and summer menu by Slow Fire London is inspired by middle eastern flavours combined with the best of British seasonal ingredients with BBQ and sharing mezes at it's heart. The meat is British and hand selected from Smithfields market, as is the produce from New Spitalfields market. The menu includes vegetarian and vegan options. Slow Fire London sources locally and sustainably wherever possible and the menu is freshly prepared. They are also committed to 100% compostable cutlery and crockery.
About Grow, Hackney
Carved out of what was once a sausage factory, Grow has been transformed into an independent bar, kitchen and creative space. Hidden in a yard in the heart of Hackney Wick and backing onto the canal, it was built by a small team and is operating as an experiment in ethical and sustainable business. It's a space for music, art, conversation and good food where everyone is welcome. www.GrowHackney.co.uk
Find us
Grow, 98C Main Yard, Wallis Road, Hackney Wick, E9 5LN. Just two minutes walk from Hackney Wick Overground and 10 mins walk from Stratford."