13.07.13 PVC Stage @ Village Green
13 July 2013
/
14:00
1 Comment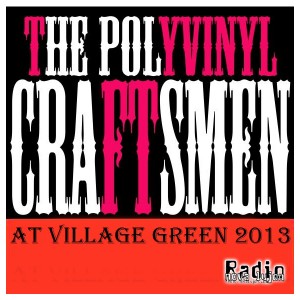 1400HRS – 1900HRS (UK) Thee Polyvinyl Craftsmen present Ghost Music, Plantman, Dead Coast and Wobbly Lamps at the Village Green Festival, Park View Suites, Chalkwell Park, Westcliff on Sea, Essex. 13th July 2013 from 3.30-7.00pm
Ghost Music – 2 lo-fi guitars and some Mo Tucker inspired rhythms, influenced by Silver Jews, Flying Nun and K Records. Ghost Music's bitter sweet moments will soundtrack your Indian summer.
Plantman – Described as 'making Field Mice sound like Modest Mouse' by The Guardians Paul Lester,Plantman are singer/songwriter Matt Randall with Adam Radmall and Bryan Styles.
Previously members of psychedelic shoegaze band Beatglider,Plantman formed in 2009 with a love of The Go Betweens,Durutti Column,mixtapes and trebly guitars.
After releasing the limited edition debut album 'Closer to the snow' in 2010, Plantman returned in early 2013 to critical acclaim with the release of the melancholic 'Whispering Trees'.
Dead Coast – The band's music is so captivating especially the melody in each track. This is a band you must check out if you like retro psychedelic garage rock. (The Musical Junkie). The sound is reminiscent to the swinging '60s, with easy comparisons to a heavier and more hallucinogenic version of The Beatles in their early days (Bring the Noise UK).
Their music would work perfectly as a soundtrack to a Quentin Tarantino film, with a laid-back quality that cruised from one song to the next, in a locomotion that emulated the movement of waves. They would be well worth checking out if you're a fan at all of your quintessential surf rock bands of the 60s or similar new age acts such as The Growlers (seesound.co.uk).
Wobbly Lamps – Southend-based Wobbly Lamps play trippy garage rock, full of reverb and distortion. They have released two 7" EPs in the last year which have found their way into discerning record boxes around the globe and picked up plenty of airplay across the US and Europe. Their last record was played heavily by Gideon Coe on BBC 6Music who said . "I like this very much, look forward to playing it again!"; "Storming garage rock screaming with fuzz and attitude" (Rough Trade)
Polyvinyl Craftsmen will be spinning vinyl all day to fill the gaps and the whole shebang will be going out live on Radio Nova Lujon.
PVC FACEBOOK PAGE
PVC RECORDS ON FACEBOOK
VILLAGE GREEN FESTIVAL IS ORGANISED BY METAL