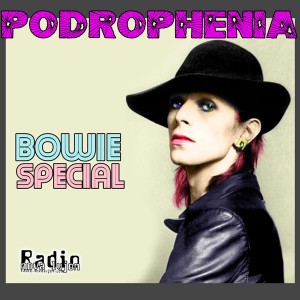 2100HRS (UK) regular monthly night with the Podrophenia guys Dave Collins & Ian Pile on Nova Lujon… Broadcasting Live from the Railway Hotel (closed session) from 9pm, NOT TO BE MISSED.
Commencing countdown engines on – for a Podrophenia Bowie special or Bowiephenia you could say..
So what's in our Velvet Goldmine of glittering goodies. Exclusive covers from The Wolfmen, the Southend Allstars and a list of other legends and listeners.
Dave Woodock joins us for live music. And behold – a preview of the due-soon Eight Rounds Rapid secret single. Our first release on the Podrophenia label
Come on all you young (and not so young dudes), Moonage Daydreamers and Lady stardusts – lean back on your Radio Nova Lujon for some cat's layin' down some rock 'n' roll.
Join us at Novalujon – live from 9. Or swing by the Facebook page and say hello…