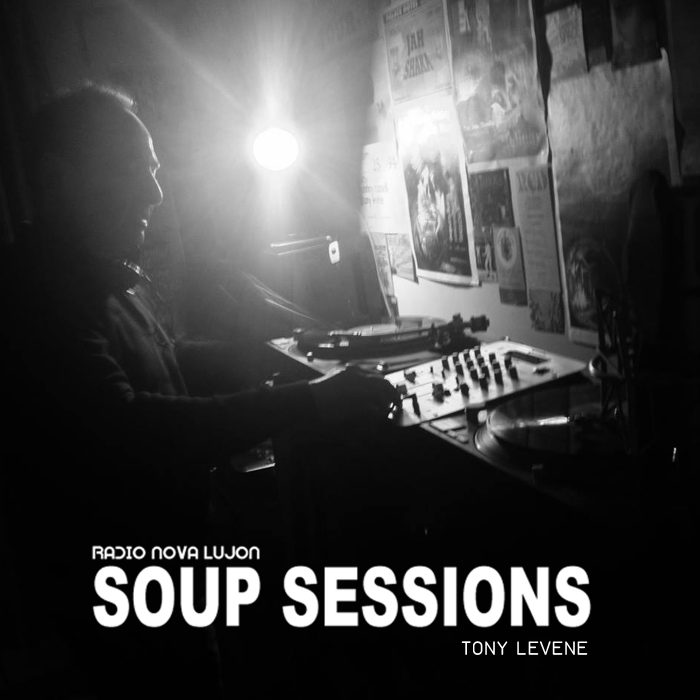 23.02.18 2100HRS (UK) A Soup Sessions welcome return for Tony Levene in 2018… "Extremely delighted to be asked back by Soup Session Producer David Jazzy Dawson to do another session on Radio Nova Lujon. This will be my fourth time on the station and I've decided to explore the funkier – jazzier elements of music that I have been lucky enough to have played out over the years at various clubs bars and parties. I also plan to keep the duration down to about two hours… well that's the plan anyway!
As those of you who know me or are familiar with what I play will know I've always had a broad taste in music as well as sometimes trying to represent this in my dj sets. I can remember some of my peers viewing my record boxes with some confusion and consternation having come across the likes of Primal Scream nestling next to James Brown, Madonna, The Clash, Ronnie Laws, Green Velvet and Burning Spear. But that's just me all over!
However for this show I aim to try and behave and stick loosely to the funkier side of things with some hip hop thrown in and finishing off with some roots reggae.
A great deal of this music has also, probably unintentionally, stood the test of time as well. Also lyrically its mainly on a conscious tip. This has always been in the forefront of my mind when it came to finding music to play out. As they say 'the message is in the music' and from the beginning it was my intention to put together something with some substance when djing. Hopefully I went someway to achieving this and spreading up-full musical vibes – I will let the people be the judge of that.
I'll be dropping tunes in various formats but mainly 12s and album cuts as well to fit more in. All of the music here on this show will have been played out as well, so its got history. If you're not listening to the show live you can get it via the Radio Nova Lujon site in the Rewind section a few days after the broadcast. So push the chairs out the way and lets get into it! Love + Guidance"
Live from 9pm (UK)!
CONTACT THE SHOW DIRECT (E-MAIL)
Track List:
1 Miles Davis – Miles
2 Mighty Tom Cats – Love Potion – Cheeba Cheeba
3 Johnny Hammond – Shifting Gears
4 Lonnie Liston Smith – Afro Desia
5 David Fathead Newman – Keep The Dream Alive
6 Floy Joy – Burn Down A Rhythm – Version
7 Kwanzaa Posse – Wicked Funk – Funk Rebirth Version
8 Two Damm Funkee – Father Funkin Dubsonic
9 Flash And The Pan – Waiting For A Train
10 Dawson Smith – I Don't Know If I Can Make It
11 Joe Quarterman – Ive Got So Much Trouble On My Mind
12 Jaln Band – Street Dance
13 Oliver Sain – London Express
14 The Honey Drippers – Impeach The President
15 The Jbs – Giving Up Food For Funk
16 Patti Jo – Make Me Believe In You
17 Reuben Wilson – Got To Get Your Own
18 Herbie Hancock – Doin It
19 Cymande – The Message
20 Ll Cool J – Illegal Search
21 Big Daddy Kane – Rap Summary
22 Epmd – Let The Funk Flow
23 Toots + The Maytals – Funky Kingston
24 Johny Clarke – Bad Days Are Going
25 Ronnie Davis – Beware Of The Evil Man
26 Burning Spear – Institution