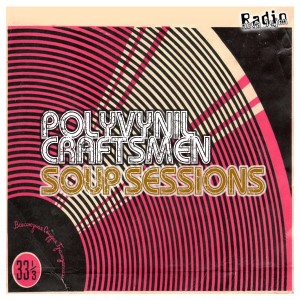 2100HRS (UK) the Soup Sessions welcome a first for thee three Paul's doing their own vinyl excursion right hear on Radio Nova Lujon from a secret location in Leigh-on-Sea, NOT TO BE MISSED…
"Thee Polyvinyl Craftsmen are Paul Lagden, Paul Siggins and Paul Cooper, to avoid confusion we use Laggers, Miggins and Coop. We are 3 record collecting music fans who decided to get together to inflict our eclectic music tastes on an unsuspecting online audience.
Coop and Miggins have been friends for twenty years and have been buying music and going to gigs since their early teens and have been DJing on and off together for much of that time around Southend. They met Laggers at the Railway Hotel in Southend where he was DJing and promoting bands. Discovering they were kindred spirits musically, nothing is off-limits unless it's bland; they decided to join forces in 2011 to transmit as Thee Polyvinyl Craftsmen from a secret location in Leigh-on-Sea once a week. We also do a monthly radio show "Church of thee PVC" for Garage Punk Pirate Radio. Doing the shows have fuelled our vinyl buying addictions to new levels in our efforts to introduce nuggets both old and new to a widening global audience.
You can catch the show by visiting polyvinylcraftsmen.blogspot.co.uk or registering for the podcasts free in the iTunes store here. Also Like our Facebook page.
PVC provided this year's Village Green Festival with Thee Polyvinyl Craftsmen Marquee where we launched the first release on Polyvinyl Craftsmen Records, a 7" EP by Wobbly Lamps which features Laggers on guitar. Also provided the music at this year's Pier Festival."
PVC FACEBOOK PAGE
PVC RECORDS ON FACEBOOK
CONTACT THE SHOW DIRECT (E-MAIL)