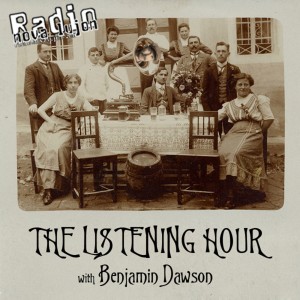 2230HRS (UK) the Listening Hour with your radio-eccentric host, Benjamin Dawson… tune in for earthly delights and witty banter every other week.
"Ramblings from the concussed mind that brought you the original vinyl only radio show: The Listening Hour! His Worshipfulness The Benjamin Dawson reinterprets Seasame Streets letter of the day, taking you for a panicked march down Alphabet Street with only a bottle of high volume Imperial stout for company! Music so rare, random & eclectic even the tiniest charity shops refuse to stock them! The Listening Hour returns with the Alphabet Sessions. A random selection from an alphabeticalised record selection. This week the letter B!"
Caution: Due to the comedy nature of this show some episodes appear to have technical difficulties, please listen responsibly.
CONTACT THE SHOW DIRECT (E-MAIL)
REWIND THE LISTENING HOUR
THE LISTENING HOUR ON RADIO NOVA LUJON
THE LISTENING HOUR ON TWITTER @ListeningHour
THE LISTENING HOUR ON FACEBOOK